What are the rules for low-speed vehicles (LSV) in Florida, otherwise known as street-legal golf carts?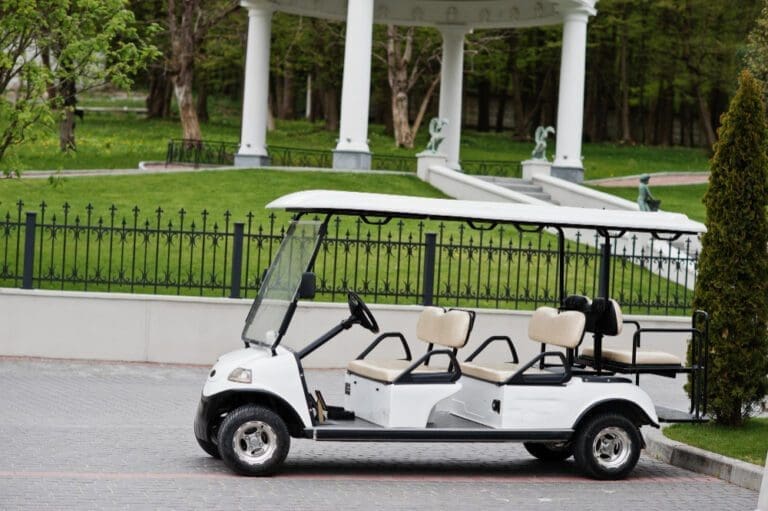 In Florida, low-speed vehicles can drive at 25 mph or less but not over the posted speed limit.
Do low-speed vehicles in Florida need insurance?
Yes, low-speed vehicles in Florida are required to have liability insurance. This type of insurance protects the operator of the low-speed vehicle in the event of an accident. The policy covers damages to other vehicles or property. It is vital to have adequate liability insurance to protect yourself and others on the road.
To operate a low-speed vehicle on Florida roads:
the vehicle must be registered and titled (more details below)

the operator must have a valid driver's license, and

the owner must carry accident liability insurance.
A street-legal golf cart has safety features not required on the golf course:
Headlamps;

Front and rear turn signals;

Stop lamps;

Tail lamps;

Reflex reflectors, red – one on each side and one on the rear;

Exterior mirror on the driver's side and an interior rear-view mirror or exterior mirror on the passenger side;

Parking brake;

Windshield;

Seat belt for each designated seat; and a

Vehicle identification number (VIN).
Term Brokers Insurance Services
Get a free quote for your STREET-LEGAL GOLF CARTS?
Are you looking for a reliable and affordable homeowners insurance policy in Emerald Coast? If so, you've come to the right place. At Term Brokers Insurance Services, we understand the importance of protecting your home and belongings, and we're here to help you find the perfect policy for your needs. Contact us today at 850-864-2000 to learn more!
Further, Low-speed vehicles are not allowed on roads with posted speed limits of more than 35 miles per hour unless they cross the road at an intersection.
Your LSV must also be titled & registered with the state of Florida.
Manufacturer's Certificate of Origin (Hobbyists can convert golf carts to an LSV by following the Converted Golf Cart procedures found on the FLHSMV site.)

Completed Application for Title (HSMV 82040)

Proof of Florida insurance (minimum $10,000 PDL and $10,000 PIP)

Identification – driver's license, ID card, or passport

Title fee, Plate fee, Initial registration fee, if applicable, Registration fee (varies by weight of vehicle)
Ready to Request a Free Quote?