Secure Your Ride:

Comprehensive Car & Truck Insurance Plans at Term Brokers Insurance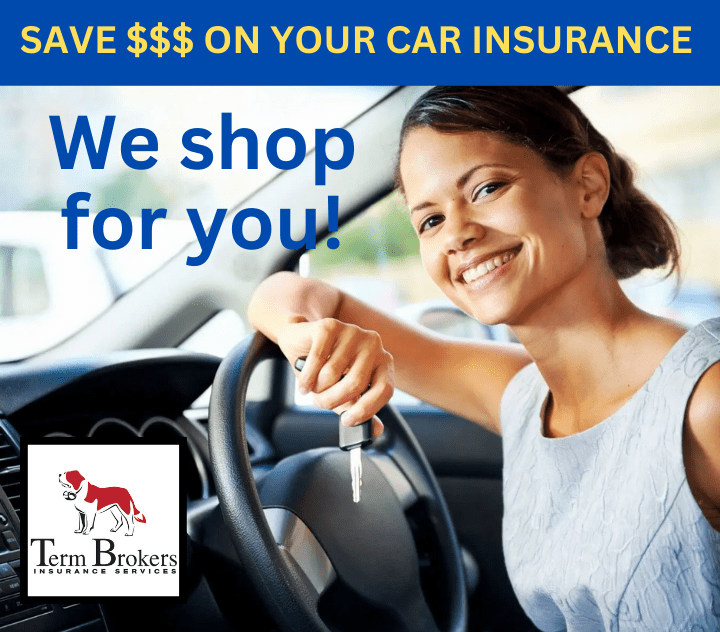 Tailored coverage choices to safeguard your car or truck in Florida
At Term Brokers Insurance, we understand the significance of safeguarding your ride. As your trusted source for comprehensive car and truck insurance, we are committed to finding the right coverage at the right price. Whether you're a car enthusiast, a daily commuter, or an occasional road tripper, our personalized insurance options are designed to meet your particular needs and give you pleasure on the road.
Comprehensive coverage for you is crucial in today's unpredictable world. Accidents, theft, and unexpected damages can occur anytime, leaving you vulnerable to significant financial losses. Our various coverage options ensure you have the protection to handle these unforeseen circumstances. From collision coverage that safeguards against damages caused by accidents to liability coverage that shields you from potential lawsuits, our insurance plans provide a safety net for your vehicles and your financial well-being.
We go beyond offering general insurance solutions. We recognize that each individual and their vehicle have unique requirements. That's why our team of experienced professionals takes the time to acknowledge your specific needs and tailor our coverage options accordingly. We work diligently with you to assess your risks, determine the appropriate coverage limits, and find the most competitive rates. With our commitment to personalized service, we strive to build lifelong relationships with our clients, ensuring you receive the highest customer care throughout your insurance journey.
Comprehensive Car & Truck Insurance Plans
Here's a brief overview of the services we provide:
Coverage Overview
Term Brokers Insurance offers comprehensive car and truck insurance plans to create to meet the unique needs of individuals in Emerald Coast Our coverage plans are tailored to safeguard your valuable assets, whether you own a car, truck, or other personal vehicle.
Collision Coverage
Collision coverage is essential for comprehensive car and truck insurance, protecting against damages caused by accidents regardless of fault. In addition, it covers repairs or replacement costs for accidents involving other vehicles, objects, or single-vehicle collisions, minimizing the financial burden of repairing or replacing the car.
Liability Coverage
Liability coverage is essential for personal car and truck insurance as it protects you from financial losses from accidents where you are found at fault. At Term Brokers Insurance, we offer specific liability coverage options tailored to meet the unique requirements of individuals in Fort Walton Beach. Our team of experts will work with you to determine the appropriate vehicle coverage limits.
Personal Injury Protection (PIP)
PIP coverage from Term Brokers Insurance provides immediate financial support if you or your passengers are injured in an accident. It covers medical expenses, rehabilitation costs, and lost wages. This coverage ensures that you and your loved ones have access to necessary medical care and financial support during a difficult time.
Uninsured/Underinsured Motorist Coverage
Having uninsured/underinsured motorist coverage is crucial to shield yourself in case of a collision with a driver with no insurance or insufficient coverage that fails to pay for the losses. At Term Brokers Insurance, we understand the importance of this coverage and can help you select the appropriate coverage limits to suit your needs.
Additional Coverage Options
Term Brokers Insurance offers additional options for personal car and truck insurance, such as coverage for valuable personal belongings and roadside assistance. These coverages can be customized to provide specialized protection for unique needs. We aim to provide comprehensive coverage that gives peace of mind and protects you in all situations.
keep your company safe and secure. Whether you need Car & Truck Insurance or other types of coverage, our experienced agents can help you find the right policy at the right price to meet your unique needs. If you have questions about our services or would like to request a quote, we invite you to contact us today. You can visit our office at 348 Miracle Strip Pkwy SW Ste 30-A Fort Walton Beach, FL 32548, or call us at 850-864-2000.
We look forward to serving you! 
Benefits of Car & Truck Insurance Plans
Financial Protection:

In case of an accident, theft, or damage to a vehicle, insurance offers financial security by lessening the economic pressure associated with repairs or replacement.

Peace of Mind:

Insurance provides a sense of security and peace of mind when driving, providing coverage for repairs, medical expenses, and legal liabilities. It protects drivers from accidents and includes protection for repairs, medical expenses, and legal liabilities.

Legal Compliance:

Having valid car and truck insurance is a legal requirement in many jurisdictions, helping to avoid legal penalties, fines, and license suspensions. Ensuring adequate coverage is crucial to staying within the law's restrictions.

Protection from Uninsured/Underinsured Motorists:

Uninsured/underinsured motorist coverage protects in an accident involving an uninsured or underinsured motorist. It covers expenses when the at-fault driver cannot compensate for damages, ensuring that the driver is not financially burdened.

Added Services and Benefits:

Value-added services such as roadside assistance, rental car coverage, and discounts on other insurance policies can enhance the overall benefits of car and truck insurance plans.
Requirements for Car & Truck Insurance Plans
The requirements for car and truck insurance plans vary depending on location and regulations, but some standard requirements are often applicable.
Liability Coverage: Liability coverage is crucial when you have a car or truck insurance plan, as it is mandatory and serves as financial protection in case you are held responsible for an accident that leads to harm or property damage. The minimum limits for this coverage differ based on the location; hence complying with the local requirements is imperative.
Minimum Coverage Limits: Various types of insurance coverage, including entirely injury liability, property damage liability, and PIP, have predetermined minimum coverage limits. These limits establish the highest amount an insurance company will disburse in case of a claim.
Deductibles: In insurance terms, a deductible refers to the partly agreed amount you are responsible for paying before your insurance coverage can be affected. Opting for higher deductibles can result in lower premiums; however, this may also lead to a more substantial out-of-pocket expense in case of filing a claim.
Vehicle Information: Obtaining car and truck insurance requires providing details such as make, model, year, VIN, modifications, and unique features.
Driver Information: Insurance companies need information about drivers, such as age, driving history, license information, years of driving experience, and the purpose of the vehicle.
Compliance with Local Laws: Stay informed and meet any additional requirements mandated by local authorities when purchasing car and truck insurance plans.
Frequently Asked Questions
Ready to Request a Free Quote?