A Charming Beachside Community
Gulf Place is a vibrant beachside community in the heart of Santa Rosa Beach, Florida. This charming location offers a variety of attractions and activities that are perfect for families, couples, and solo travelers. In addition, the area boasts an array of shopping, dining, and outdoor activities, making it an ideal vacation destination.
One of the most appealing features of Gulf Place is its stunning white sand beaches. With crystal-clear waters and soft sand, it's the perfect place to soak up the sun, swim, and relax. Visitors can also rent beach chairs, umbrellas, and other equipment to make their beach experience even more comfortable.
In addition to the beach, Gulf Place offers plenty of outdoor activities for visitors to enjoy. Whether you're an adrenaline junkie or prefer a more leisurely pace, there's something for everyone. Some popular activities include:
Biking: Gulf Place has a variety of scenic bike trails, including the Timpoochee Trail, which stretches along the coast for 19 miles.

Stand-up paddleboarding: This fun activity is a great way to explore the area's waterways and get some exercise at the same time.

Golfing: There are several top-rated golf courses in the area, including the Santa Rosa Golf & Beach Club, which offers stunning views of the Gulf.

Fishing: Gulf Place is a popular spot for fishing, whether casting from the shore or heading out on a charter boat.

Hiking: The nearby Point Washington State Forest has several hiking trails that offer stunning views of the area's natural beauty.
Gulf Place has plenty of shopping and dining options if you're looking for a more relaxed pace. The Gulf Place Town Center is a popular spot for both locals and visitors, featuring a variety of shops, restaurants, and cafes. From casual beachwear to high-end boutiques, there's something for everyone.
When it comes to dining, Gulf Place has a diverse range of options to suit all tastes and budgets. So you'll find it here whether you're in the mood for fresh seafood, classic American cuisine, or international flavors. Some popular dining options include La Playa, a Mexican restaurant with a beachy vibe, and the Perfect Pig, which serves up Southern-style barbecue and craft cocktails.
In addition to its many attractions, Gulf Place is also conveniently located near several other popular destinations. The town of Seaside, famous for its picturesque architecture and quaint shops, is just a short drive away. Destin, another renowned beach town, is also within easy reach.
Overall, Gulf Place offers a fantastic vacation experience that caters to various interests and preferences. Its stunning beaches, diverse outdoor activities, and ample dining and shopping options make it an ideal destination for families, couples, and solo travelers. 
If you're looking for a permanent residence, Gulf Place also offers an excellent opportunity to live in a vibrant and charming beachside community. In addition, its proximity to other popular destinations and top-rated golf courses make it a desirable location for both primary and second homes. So whether you're considering Gulf Place as your next vacation spot or permanent residence, you're sure to find a welcoming community and an array of activities to enjoy.

Next articles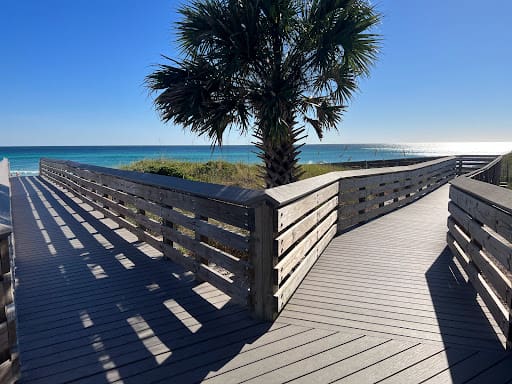 Term Brokers Insurance Services
Ready to Request a Free Quote?